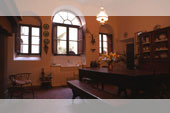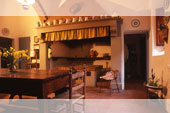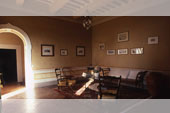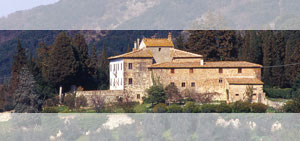 " Villa Di Scopicci " farmhouse is situated in Volterra area , at about 10 km from the centre of the city .

You can reach the heart of Volterra in about 10 minutes by car . The " Villa " is a typical XVIII century country residence built by architect Luigi Campani , one of the ancestor of the family , as you can see from the coat of arms on the main door of the house. In the farmhouse you can enjoy a real family atmosphere thanks to its owners Marisa , Carlo and Anna who speak english and french.

The " Villa " is set in a typical tuscany countryside dominated by olive-groves and little woods where you may have the opportunity to see wild animals like porcupines , wild boars and roe – bucks . The family produces and sells a first quality extravergin olive oil .

The farmhouse is made up of three houses :
1) The apartment in the Villa can accomodate three people ( a kitchen , a double bedroom and a little living room ) .Pets are allowed.

2) A farmhouse , opposite the villa , called " Scopicciolo " with central heating system ( a kitchen , two double bedrooms , and a living room with a sofa bed ) . The garden is sorrounded by a net for your pets . ( Dogs and cats are allowed ).

3) A big farm called " Ulivacci " which can accomodate six people at about 300 meters from the Villa ( a big kitchen with fireplace , two double bedrooms , a dining room , a living room with a sofa bed , two bathrooms .) Central heating . The little lake and the ancient oaks which sorround the house inspire a relaxing atmosphere and excursions in the nearby area . Pets are allowed .